Strategic Programme
for Primary Care (SPPC)
Download - What is the Strategic Programme for Primary Care (SPPC) ?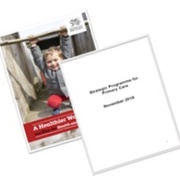 The Strategic Programme for Primary Care is an All-Wales Health Board-led programme that works in collaboration with Welsh Government and responds to A Healthier Wales.
The Programme aims to bring together and develop all previous primary care strategies and reviews at an accelerated pace and scale, whilst addressing emerging priorities highlighted within A Healthier Wales.
To achieve success, the Programme looks to all health, social and wellbeing providers, Health Boards and other stakeholders to work collaboratively in sharing local initiatives, products and solutions that could add value to the delivery of primary care services on a 'once for Wales basis'.
The programme is made up of the six streams (see below) - Click on each work stream to find out more about why the project is needed, who sits on the working groups, the scope of work and an example of the expected outputs from each area:


For more information, you may also find the following pages useful:

This update provides an overview of progress by the Programme from 1 April 2022 to 31 March 2023, notes the work of the National Leads and then provides a look ahead for our programme of work into 2023/24.
Previous update reports can be found :
Mid year April – October 2022 - SPPC_Word_template_A4_v2 (nhs.wales)
End of year report 2022 - SPPC_Word_template_A4_v2 (nhs.wales)
Background information about the programme of work (and the 2019, PRE-COVID plans) can be found in the original handbook available here- primarycareone.nhs.wales/files/strategic-programme-handbook/the-strategic-programme-for-primary-care-handbook-2019-2020-pdf/