5. Communication and Engagement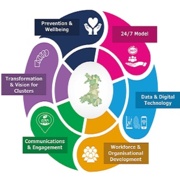 As recognised within A Healthier Wales and evidence such as the General Medical Practice (GP) Inspections Annual Report there is a need to raise public awareness of how services across Wales are changing, what is available locally; and how and when to access them.
"The communication and engagement on the primary care model for Wales needs careful consideration and dedicated expertise to ensure understanding by all stakeholders and the public are clear on what this means going forward."
The project will be managed in two phases:
(2019-20) - raise awareness of the changes to local health and wellbeing services being developed under the Primary Care Model for Wales.

(2019-21) – a more long term strategic approach to behaviour change in how the people living in Wales access the new, wider model of primary care services.
Production of a robust and well-thought out communications strategy to deliver messages about the changes within primary care services.

A 'Primary Care Model' communications toolkit for use by health boards and partners (including local authorities).

Delivery of a national campaign that is supported at a local level.
Work stream group members
Chair: Director of Primary and Community Care

Co-Chair: Welsh Government; Senior Communications Officer

Head of Communications and Engagement

Head of Primary and Community Care

National Director of Primary Care

Public Health Wales Director of Primary Care

Public Health Wales Communications and Engagement Lead

Project Manager Programme Manager

Welsh Government Policy Lead