4. Workforce and Organisational Development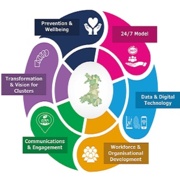 The multidisciplinary team approach is acknowledged as the common characteristic of the best new models for primary care. On this basis, the Strategic Programme will work to support the transformation of the primary care workforce.
T
he work stream sets out to address four key overarching themes within workforce and organisational development:
Workforce

Resources

Efficiency; and

Leadership
Activities to support these themes include:
Workforce data and planning.

Addressing issues around employment and retension.

Role development (where identified) as required to support MDT.

Education that increases exposure to primary care.

Fit-for-purpose training.

Means of sharing best practice that is evidenced based.
Launch and implementation of National Workforce Reporting Tool

.

Development of a tool/minimum specification to assess 'in hours', general practice service, Demand and Capacity.

Production of a Workforce Plan template for Clusters to inform more robust commissioning for training places.

Development and improvement of the education and training available in primary care to health professionals and healthcare staff (e.g. pharmacists). Framework to expand education and training in primary and community settings.

An increase in the number of GP training places offered in Wales.

Workforce solutions to support NHS organisations in improving access to eye care.

Development of the Train, Work, Live campaign.

T

o share good practice via a refreshed, web-based 'Compendium of roles and models'.
Work stream group members
Chair: Director of Primary and Community Care

Co-Chair: Director of Workforce and OD

Business Partner, Workforce and Organisational Development

Director of Therapies and Health Sciences

Director of Nursing

Head of Primary and Community Care

HEIW (Head of Workforce Modernistaion)

HEIW (Programme Mananger)

National Director of Primary Care

Public Health Wales Director of Primary Care

Project Advisor

Programme Manager

Social Care

Welsh Government Deputy Director Primary Care

Welsh Government Policy Lead (Primary Care)