3. Data and Digital Technology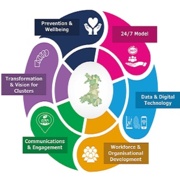 'A Healthier Wales' identifies data this as a key enabler of transformational change to support new models of care.
The initial

focus will be on ensuring that relevant

information is accurate, complete, up

to date and shared between everyone

responsible for the individuals care;

before moving on to new ways of

accessing services and then more

advanced digital solutions.



SYSTEMS - Maximising existing systems and ensuring new systems enable access to, and sharing of data and information, to support clusters, and the delivery of care in the community.
INFORMATION - Ensuring key data is available to monitor and report on progress against national standards and targets.
TECHNOLOGY - Identification of technology that can support delivery of new models of care.
Identification IT system requirements to support Primary Care providers and Cluster level working.
Consistent templates to support the capture and reporting of progress against Access standards and Welsh Government Milestones.
Checklist for stakeholders to help identify the data and digital requirements to support new ways of working.
Guidance on how to request / include primary care work within the National Informatics Plan.
Roll out of 'Practice Contact data' .
Introducing 'Time spent at home' (subject to scoping)
Fit for purpose primary care measures (including 111/OOH).
Recommendations regarding digital opportunities.