6. Transformation and the Vision for Clusters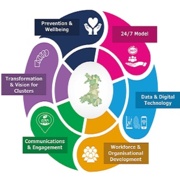 As the transformation programme develops (in line with 'A Healthier Wales' recommendations), it is important that any learning is shared quickly across primary care and further informs the vision for clusters. Of specific note, will be any plans to accelerate the implementation of the full primary care model at cluster and regional level. Key links will be made with the national Transformation Programme and local transformation programmes.
To understand the challenges and barriers that clusters experience and identify solutions at both a national and local level.

To work with other national programmes to ensure seamless working.

To work with external stakeholders to develop the place-based care approach.

To align with relevant work as set out in A Healthier Wales.
An updated description of the vision for clusters.

A register of cluster challenges (accompanied by actions required at a local and national level). This will include a number subproducts, such as:
- A heat map at national level and local compendium of cluster support.
- Alternative commissioning models – A Good Practice Guide for alternative models of organisational forms.
- Integrated Planning – An all-Wales Cluster IMTP template.
Work stream group members
Chair: National Director of Primary Care

Co-Chair: Public Health Wales Director of Primary Care

Programme Manager

Welsh Government Policy Lead (Primary Care)