1. Prevention and Wellbeing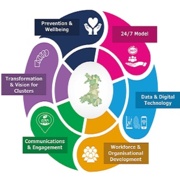 DRAFT - Project Initiation Document 2020-21
There is a pressing need to transform the health and care system, of which primary care is a key component, towards an approach that prioritises prevention.
A focus on prevention is prioritised in a number of key strategic documents including A Healthier Wales, Building a Healthier Wales and in legislation including The Social Services and Well-being Act and The Well-being of Future Generations Act.
Primary care specific elements within 'Building A Healthier Wales'

Prevention in clinical settings

Maximising opportunities to support programmes which address:
- Making Every Contact Count (MECC).
Social prescribing

Tools to support population need assessment to inform service planning, prioritisation and evidence informed local action

Vaccination and screening
The Primary Care Needs Assessment (PCNA) tool: an online tool to support local, health board and cluster level action planning.

A framework to support a coordinated approach to prevention in clinical settings.

A 'Blood Pressure Monitoring in Primary Care'pilot (with potential national roll out).

A report and refreshed web content (via Primary CareOne) that describes the offer of social prescribing within primary care.

Improved number of frontline primary and community care workers having access to and completing Level 1 MECC training.

Targeted products to highlight the range of resources available to support infection prevention and screening programmes.