2. 24/7 Model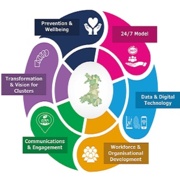 There is a recognition that primary and community care services across Wales vary depending on the time of day and location. This work stream looks to ensure that as far as possible, the primary care offer is consistent on a 24/7 and geographic basis.
111 Roll Out
OOH Peer Reviews
Winter Planning Initiatives
OOH Pathways
Escalation Processes
Availability of services within the community
Telephone first / Sign-posting / Triage Urgent Care.
Membership
Chair: Director of Primary and Community Care
Co-Chair: Director of Primary and Community Care
111 Programme Director
Assistant Director of Therapies
Director of Operations
Head of Primary and
Community Care
National Director of Primary Care
Public Health Wales Director of Primary Care
Project Advisor
Project Manager
Programme Manager
Welsh Government Policy
Lead (Primary Care)
Welsh Government Policy
Lead (Unscheduled Care)
OOH Peer Review National Action Plans
Winter planning framework and a robust evaluation process.
Clear and consistent All-Wales OOH pathways to support:
A once-for-Wales approach to escalation processes, defined levels of pressure and standardised responses to support 'in-hours' general practice services.

Mapping of all Independent Contract services available in a locality.

A clinical triage toolkit for general practice that includes: a 'how to', the environment required and the expected benefits.