Paramedics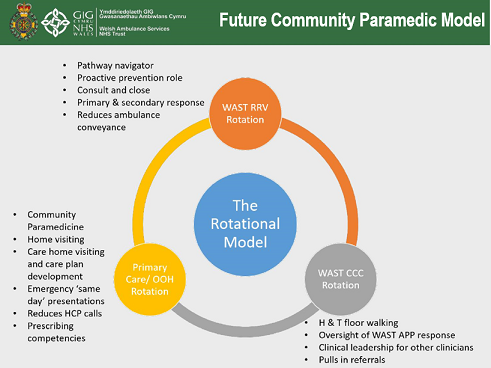 Advanced Paramedic Practitioner (APP) Practice
Advanced Paramedic Practitioner (APPs) are specialised and autonomous clinicians working for The Welsh Ambulance Services NHS Trust in the emergency, urgent and unscheduled care settings.
APPs provide advanced clinical assessment skills, diagnosis, treatment and referral of patients using a medical/management model of care.
Benefits:
Following the completion of an 18 month pilot scheme in the Betsi Cadwaladr University Health Board area, the Welsh Ambulance Services NHS Trust has recognised the strategic benefits of significantly expanding the numbers of APPs.

The primary benefits include reducing the impact of patients accessing the 999 system and proportionate conveyance to secondary care as well as supporting Primary Care and the Out of Hours capacity to help mitigate the pressure on the wider Unscheduled Care System.

WAST APPs undertake both Home Visits and Treatment Centre/GP Surgery Consultations, working collaboratively with GPs and MDT's to deliver care.

Trainee Advanced Practitioners are supported within these models to develop our future clinicians and support the development of bespoke models working collaboratively with our Health Board Partners across Wales.

There are now established schemes in the BCU, HDUHB and AB Health Board areas.

The APPs supported primary care from the start of the pandemic by adapting to a telephone consultation model and many have also supported the COVID-19 vaccination programme at the MVCs. We now have APPs with sufficient experience in a range of clinical settings to provide a DMP/mentor role for developing and trainee APPs, this will be crucial when we look to expand the APP scheme across Wales.

Our Clinical Offer:
APPs have an increased medicines formulary supported by Patient Group Directives to treat a range of acute medical presentations. Many APPs have also now qualified as Independent Prescribers which enables them to provide additional treatment options in line with current best practice and requires fewer referrals back to GPs both in primary care and when responding to patients accessing the 999 system.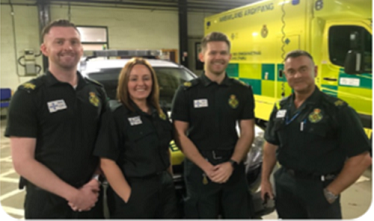 Updated 25/10/2021