Practice Managers' confidence boosted by new programme
The Confident Practice Manager programme launched earlier this year
Greater confidence, self-belief and the ability to lead change and influence decisions were among the main takeaways for the first two cohorts of GP practice managers to complete a new programme developed by the Primary Care Hub in collaboration with
Primary Care Commissioning
.
Attendees at the workshops were given the opportunity to reflect on their learning from their programme before being presented with their completion certificates by Sue Morgan, National Director & Strategic Programme Lead for Primary Care in Wales.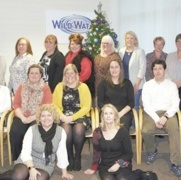 Other feedback from the groups included that the programme had:
provided them with much needed peer support;
left them feeling better qualified to do their job and deal with its many challenges;
made them feel more engaged with cluster working and more able to actively participate in cluster meetings;
helped them improve vital leadership and management skills such as people management and delegation.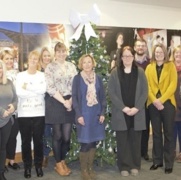 Hayley Blyth, Amman Tawe Partnership
"The programme has enabled me to see the bigger picture and the feeling of being alone as a practice manager has been eroded by support and encouragement of others in the same position as me."
Nichola Williams, Birchgrove Surgery
"The GP Partners asked me
"How has the practice benefitted from you attending the Confident Practice Manager course?"
.
I confidently responded, "It's gained a practice manager with greater networking skills and wider influences; the ability to approach every challenge set before me without a sense of overwhelming loneliness; a greater belief in my own ability to lead the practice team in the ever changing landscape of primary care. I feel connected again."
Amanda Duddridge, Wellspring Medical Centre
"The course has helped me be much better prepared for cluster meetings. I feel that I can able to contribute more, and feel more confident doing so.
"It's also been useful in terms of reinforcing what I'm doing is right – when you're working in an isolated environment, you just carry on doing what you do, but it's a confidence boost to hear that others are doing the same thing. It's all about sharing ideas, approaches and good practice."
Joanna Watts-Jane - Aberbeeg Medical Practice
"Being a practice manager can be a lonely job so it's lovely to come to a room filled with people facing the same challenges and issues as you, whatever kind of practice they work in. There's a sense of shared purpose and understanding."
The Confident Practice Manager programme was developed specifically for NHS Wales GP practice managers with the aim of equipping them with the knowledge and confidence to excel in their managerial and leadership roles.
Through a series of 6 workshops combining full and half-days, the programme brings together groups of like-minded individuals within a supportive learning environment so that they can share experiences and insight, as well as benefit from the input of experts from within the field.
A third programme cohort is underway in North Wales, with a further three due to start in early 2020 in locations in south Wales. .
If you are a GP practice manager interested in completing the programme, please contact Kelly King via email
Kelly.king@wales.nhs.uk
.