National Primary Care Conference 2019
Held at the International Conference Centre in Newport on Thursday 7 November, 2019.
The event, held on behalf of Welsh Government and organised by Public Health Wales' Primary Care Hub, centred this year on the theme of 'Clusters: Past, Present and Future'.
Attendees enjoyed a series of talks, panel discussions and workshops examining current practice in cluster working across the primary care sector, as well as exploring ideas and approaches for its ongoing development.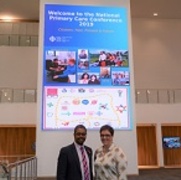 The day's first key note speech came from Vaughan Gething AM, Minister for Health and Social Services, who thanked attendees for their continued commitment to cluster working, while also challenging them to up be bolder, more driven and innovative than ever before as they continue to drive forward change in primary care.
The day's second keynote speaker, Professor Helen Stokes-Lampard, Chair of the Royal College of General Practitioners, outlined her vision for the future of general practice in particular, before commending practitioners from across the sector for ensuring that Wales continues to lead the way in the UK in terms of cluster working.
The event also featured a Primary Care Village, offering delegates the opportunity to meet the people behind a range of local-level care and support services, as well as the chance to take part in and observe activities ranging from willow-basket weaving to breakdancing.
A community choir, formed as part of the Alzheimer's Society's
Singing from the Brain
initiative was on hand to provide a soundtrack to the day.
This year, the conference supported two local charities, with attendees invited to bring along donations to The Olive Branch, an organisation which provides support to people in Newport who are homeless or vulnerably housed, and the Newport foodbank.
Resources from the conference will be available on the
PCOne website
soon – and details of the 2020 conference will be revealed in due course.